Check UNIMED Admission List for 2017/2018 Session Released.
The management of Ondo State University of Medical Sciences (UNIMED) has released the first batch admission list of candidates admitted for the 2017/2018 academic session.
Candidates can now proceed to check their admission status
online
.
How to Check UNIMED Admission List 2017:
Visit https://www.unimed.edu.ng/portal/admission_status.php
Enter your JAMB Registration Number in the space provided.
Click on Check and proceed to view your admission status.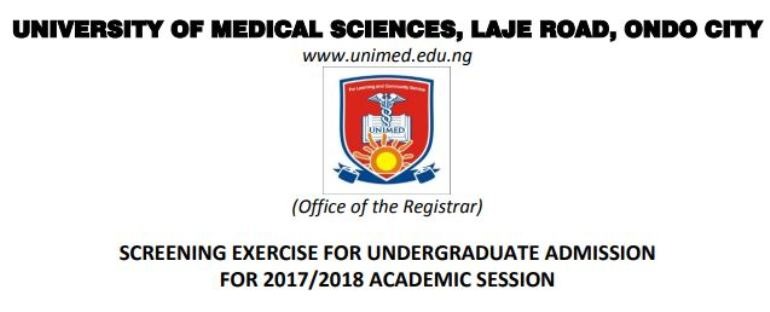 ABOUT UNIMED: In 2014, the Executive Governor of Ondo State, His Excellency Dr. Olusegun Mimiko, signed into law the bill for the establishment of the University of Medical Sciences, Ondo proposed by the Ondo State House of Assembly under Schedule 1, Section 5(2), and Article 39(1) of Ondo State Laws.
The Law was designed to find ways to sustain the delivery of model health services that had been the hallmark of the administration of the State under Governor Mimiko. Under the Abiye program, Ondo State was the only state in the country that had achieved the Millennium Development Goals 4 and 5 aimed at reducing maternal and child deaths.
The State had established model Mother and Child Hospitals in Akure and Ondo, ultra-modern diagnostic services and a Medical Village with considerable investments made in infrastructural and human resource development.
To sustain such a groundbreaking vision, and to ensure high quality delivery of health services for all Nigerians, the idea of a University came to the fore.
The alternative options for implementing the vision of sustaining human resource development for health in Ondo State was to either to establish a College of Medicine in the existing State Universities in Akungba or Okitipupa or to establish a mini-campus on Medical education linked to one of the Universities. However, these options fell through because of experiences which shows that Colleges of Medicine established far away from the operating headquarters of the main Universities have not worked very well in this country.
There is always the problem of primary loyalty to the initial founding vision of the parent Universities and also administrative bottlenecks that often prevent the full realization of the full potentials of the medical institution.
Also, many mini-campuses of Universities have never really functioned well in this country, and because of the big vision of transforming West Africa's health care delivery system being envisaged for this initiative, it was felt that a new University right from the onset will be more appropriate.